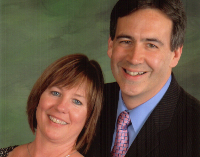 Dr. Jeff King is a popular speaker before both secular and and Christian audiences. His words have been published in 68 countries, as well as heard daily in 50 North American cities
through the syndicated radio show,
"Day by Day with Jesus."
Thousands tune in weekly for Jeff's inspirational radio show,
"Everyday Encouragement with Jeff King."
Jeff lives in Massachusetts with his wife Kathy, where he serves as the long-time pastor of
Christ Lutheran Church.
Jeff received his Master's Degree from Concordia Seminary in St. Louis, Missouri and his doctorate from Fuller Seminary in Pasadena, California.
When measuring his life, Jeff values a life rich with faith, family and friends as his highest achievement.